PEMETAAN PERSEPTUAL KONSUMEN KAIN TENUN SASAK MENGGUNAKAN METODE MULTIDIMENSIONAL SCALING
Keywords:
Selected:Perception, Multi Dimensional Scaling, Sasak Woven Fabric
Abstract
In the Sasak tribe, the existence of woven cloth has a very important position, however, this craft is currently increasingly difficult to survive amid woven products from outside the region that flood outlets both in tourist and trade areas. On the other hand, tourists or consumers who buy woven fabric products often cannot distinguish between Sasak weaving and woven fabrics from other regions, even between the woven fabrics produced from one village to another. As a result, Sasak weaving becomes difficult to compete. Therefore, Sasak weaving needs to be introduced to its quality and uniqueness compared to weaving from other regions, even the peculiarities of weaving from one village to another. Therefore, scientific study and analysis is needed, so as to provide a more precise solution that aims to map consumer perceptions through Multi Dimensional Scaling Analysis (MDS). This study involved 103 respondents who know about the woven fabrics Sukarara, Sade and Pringgasela. The MDS results show that the Sukarara cloth is considered very different from the Pringgasela, while the Sade woven cloth has similarities with the Sukarara and Pringgasela woven fabrics. There are two attributes that characterize the woven fabrics of the Sasak tribe, namely easy maintenance and bright colors, but they have different perceptions on several other attributes.
Downloads
Download data is not yet available.
References
AL. Yuriansyah, Persepsi Tentang Kualitas Pelayanan, Nilai Produk dan Fasilitas Terhadap Kepuasan Konsumen, Management Analysis Journal, 2013, journal.unnes.ac.id
Kotler, Philip dan Armstrong, Gary. 2012. Prinsip-prinsip Pemasaran. Jakarta: Erlangga.
LAK, Nusarika, NM., Purmain, Pengaruh Persepsi Harga, Kepercayaan, dan Orientasi Belanja Terhadap Niat Beli Secara Online (Studi Pada Produk Fashion Online di Kota Denpasar, 2015, E-Jurnal Manajemen, ojs.unud.ac.id
Marpaung, B., D, Formian, Pengaruh Persepsi Harga dan Kualitas Produk Terhadap Keputusan Pembelian Kain Tenun Tarutung Jenis Tumtuman di Kota Medan, 2019, repository. uhn.ac.id
Marianti, MM., Istiharini, Analisis Karakteristik dan Perilaku Konsumen tenun Songket Palembang, 2014, Research Report Humanities and Social Science, journal unpar.ac.id
NLPS.Wulandari, NW Ekawati, Peran kepercayaan Dalam memediasi Persepsi Nilai Terhadap Niat Beli Produk Ramah Lingkungan, 2015, E- Jurnal Manajemen, ojs.unud.ac.id
Sariade, L., H. Harubas, Pengaruh Kualitas Produk dan Harga Terhadap Minat Beli Kain Tenun Khas Button di Kelurahan Sulaa Kecamatan Betaambari, 2019, ejournal.unidayan.ac.id
Saluita, Dewi, Analisis Pengembangan Produk Kerajinan Kain tenun Ikat Desa Rembitan (Studi kasus di Dusun Sade Kabupaten Lombok Tengah), 2019, ummat repository
Simamora, Henry. 2000. Manajemen Pemasaran internasional. Jakarta: Salemba Empat.
Suharno dan Sutarso, Yudi. 2010. Marketing in Practice. Yogyakarta: Graha Ilmu.
Sumarwan, U, Simanjuntak, J., Persepsi dan Preferensi Iklan mempengaruhi Niat Beli Anak Pada Produk Makanan Ringan, 2012, ithh.journal.ipb.ac.id
Tjiptono, Fandy. 2008. Strategi Pemasaran. Yogyakarta: ANDI.
Widjaja, A., Analisa Persepsi Konsumen Tentang Atribut Produk AMDK, 2014, Publication. Petra.ac.id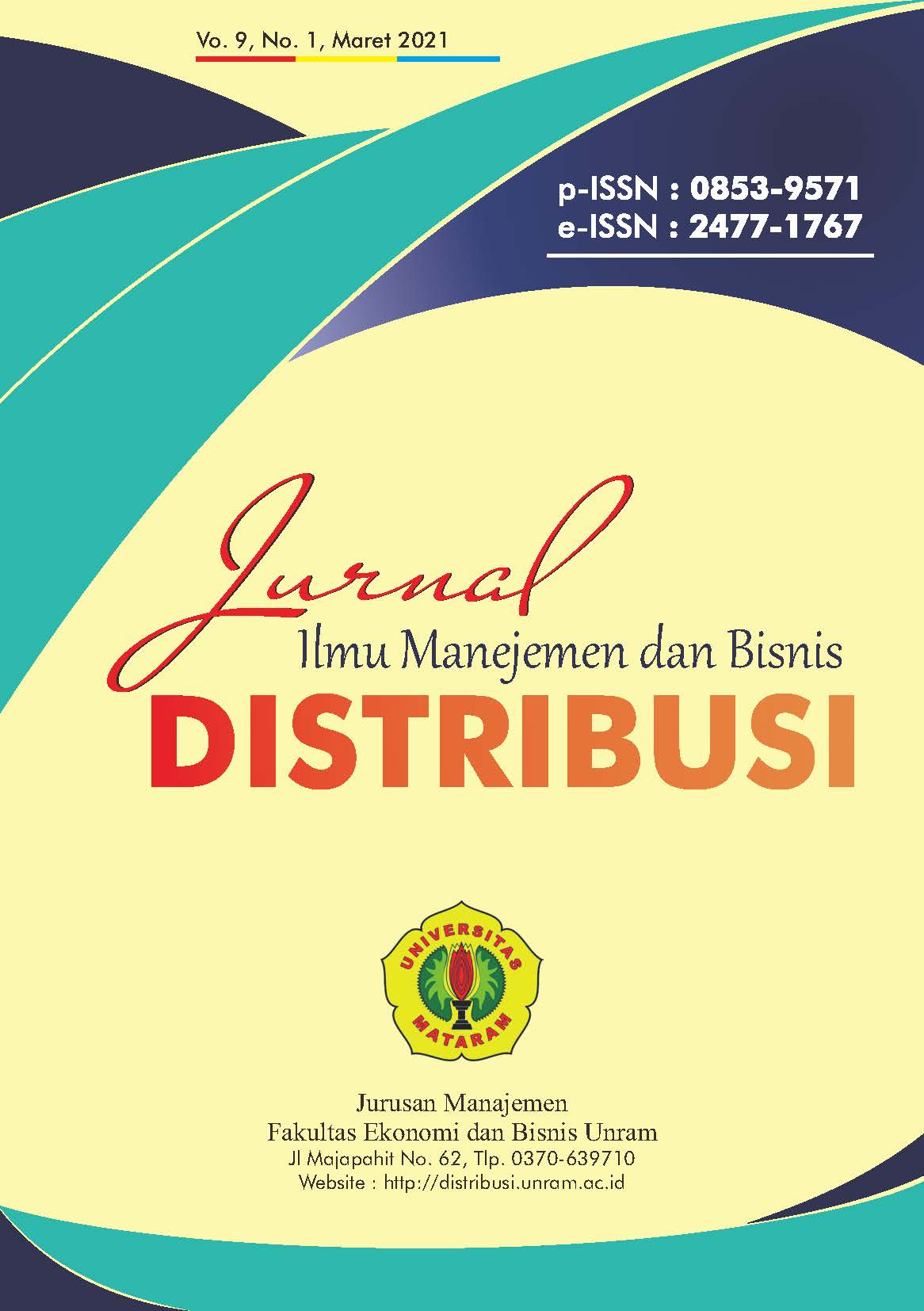 Downloads
How to Cite
Rinuastuti, H., Suparman, L., & Asmony, T. (2021). PEMETAAN PERSEPTUAL KONSUMEN KAIN TENUN SASAK MENGGUNAKAN METODE MULTIDIMENSIONAL SCALING. Distribusi - Journal of Management and Business, 9(1), 99–108. https://doi.org/10.29303/distribusi.v9i1.159
License
Copyright (c) 2021 Handayani Rinuastuti, Lalu Suparman, Thatok Asmony
This work is licensed under a Creative Commons Attribution-ShareAlike 4.0 International License.
Penulis yang naskahnya diterbitkan menyetujui ketentuan sebagai berikut:
Hak publikasi atas semua materi naskah jurnal yang diterbitkan/dipublikasikan dalam situs Jurnal DISTRIBUSI ini dipegang oleh dewan redaksi dengan sepengetahuan penulis (hak moral tetap milik penulis naskah). 
Ketentuan legal formal untuk akses artikel digital jurnal elektronik ini tunduk pada ketentuan lisensi Creative Commons Attribution-ShareAlike (CC BY-SA), yang berarti Jurnal DISTRIBUSI berhak menyimpan, mengalih media/format-kan, mengelola dalam bentuk pangkalan data (database), merawat, dan mempublikasikan artikel tanpa meminta izin dari Penulis selama tetap mencantumkan nama Penulis sebagai pemilik Hak Cipta. 
Naskah yang diterbitkan/dipublikasikan secara cetak dan elektronik bersifat open access untuk tujuan pendidikan, penelitian, dan perpustakaan. Selain tujuan tersebut, dewan redaksi tidak bertanggung jawab atas pelanggaran terhadap hukum hak cipta.