ANALISIS PENGEMBANGAN PLATFORM EKSPOR SUB SEKTOR KULINER TINJAUAN DARI MODEL SISTEM INOVASI
Keywords:
Ekonomi Kreatif, Platform, Ekspor, Model Supply-Demand-Linkage
Abstract
Sektor ekonomi kreatif diharapkan mampu meningkatkan kontribusi Produk Domestik Bruto (PDB) sektor Ekonomi Kreatif (Ekraf), penyerapan tenaga kerja sektor Ekraf, jumlah usaha dan peningkatan ekspor produk atau jasa Ekraf. Ekonomi kreatif memiliki karakteristik yang berkaitan dengan rantai nilai dan nilai tambah yang mengandung kekayaan intelektual (Santoso, 2020). Pengembangan platform untuk pasar dalam negeri dan ekspor. Terdapat keterkaitan antara platform (intermediary side/ linkage) terhadap pelaku ekonomi kreatif (supply side) dan pemenuhan kebutuhan konsumen (demand side). Peningkatan kemampuan ekonomi berbasis ekonomi kreatif dilakukan melalui rekayasa ulang bisnis. Tujuan dari penelitian ini adalah menganalisis penataan ulang dari proses bisnis platform ekspor dibidang subsektor kuliner dengan menggunakan pendekatan model Sistem Inovasi yang merupakan keterkaitan sisi pasokan (supply), kebutuhan (demand) dan linkage (keterkaitan sisi supply dan demand).
Downloads
Download data is not yet available.
References
Andrea, Giri; Sugeng Santoso (2020). Improving Economy of the Community Based on Sustainable Tourism and Creative Economy through Business Process Re-Engineering (BPR) With Geopark Development in Lebak Regency Banten Province, International Journal of Innovative Science and Research Technology, Volume 5, Issue 1, January-2020.
Santoso, Sugeng; Nurzaki, Alfi; Santoso, Arga; Benawan, Chano; Wahyudin, Didin (2020). Kinerja PT. PLN Unit Induk Distribusi Jakarta Raya Dengan Supply Chain Operation Reference, Jurnal Distribusi, Vol. 8, No. 2, Halaman 255 s.d 266, September 2020, Fakultas Ekonomi dan Bisnis, Universitas Mataram, http://dx.doi.org/10.29303/distribusi.v8i2.136
Ari Ana, Fatmawati dan Santoso (2020). Penguatan Rantai Nilai Pariwisata Sebagai Strategi Pengembangan Kawasan Kota Tua Jakarta Menjadi Kawasan Wisata Ramah Muslim, Jurnal Ilmiah Manajemen dan Bisnis, Fakultas Ekonomi dan Bisnis, Universitas Mercu Buana, Vol. 6 (3), hal. 284-304, Nov. 2020. https://doi.org/10.22441/jimb.v6i3.9825
Dumilah, Dewi Retno; Moh. Komarudin; Rian Ubaidillah; Sulastri Siagian; Sugeng Santoso (2021). Peran Ekonomi Kreatif Dalam Meningkatkan Industri Pariwisata Di Seaworld Ancol, Jurnal Master Pariwisata (JUMPA) Volume 7, Nomor 2, Januari 2021.
Endri; Afriapollo Syafarudin; Sugeng Santoso; Erna S. Imaningsih; Titing Suharti; Rachmatullaily T. Rinda (2020). Consumption Behavior Patterns of Generations Y Halal Products In Indonesia, Academy of Entrepreneurship Journal, Volume 26, Issue 2, 2020.
Santoso, Sugeng; Tjiptogoro Dinarjo Soehari; Yoce Aprianto; Dicky Andrean; Henny (2020). Value Creation In Fisheries Supply Chain As A Role Model For Fish Protein Hydrolyzate Cluster Development, Jurnal Rekayasa Mesin V11 N3, artikel 12, pp. 401-407. https://doi.org/10.21776/ub.jrm.2020.011.03.12
Santoso, Sugeng (2020). Optimizing Access to Financial Capital of Creative Economy for Startups Towards Global Competitiveness, Jurnal BECOSS (Business Economic, Communication, and Social Sciences), Vol.2 No.2 May 2020: 13-21.
Santoso, Sugeng (2010). Penerapan Metode Multi Dimensional Scaling (MDS) Dalam Perencanaan Formulasi Strategi Pemasaran Supermarket Hero Malang, Jurnal Teknik Industri, Vol.1 No.1, Hal. 60 - 70. https://doi.org/10.22219/JTIUMM.Vol1.No1.60-70.
Santoso, Sugeng (2010). Model Logit (Logistic Regression) sebagai Model Probabilitas Linier Alternatif Dalam Contoh Aplikasi di Teknik Industri, Jurnal Teknik Industri, Vol.2 No.1, Hal. 59 – 64. https://doi.org/10.22219/JTIUMM.Vol2.No1.59-64.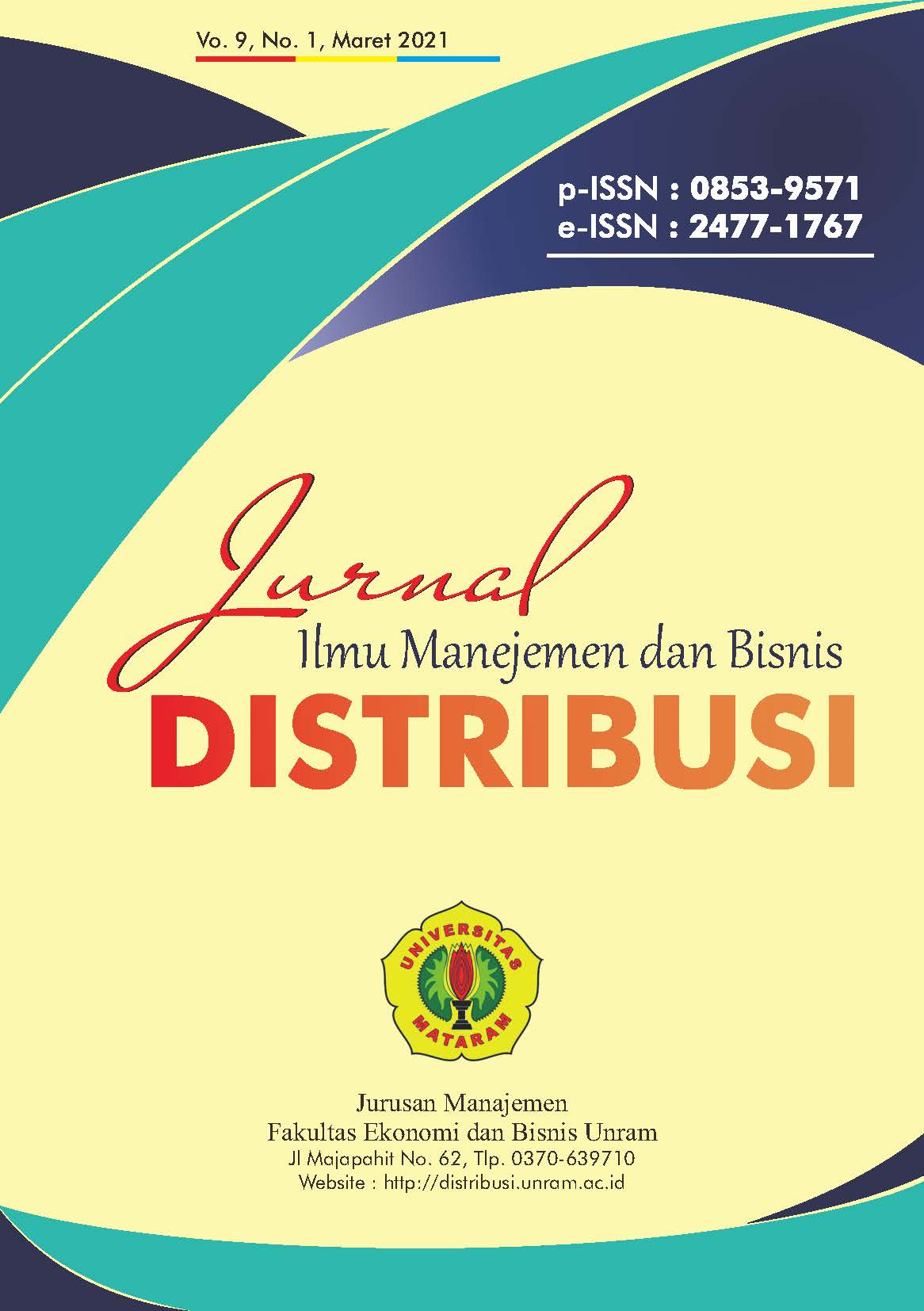 Downloads
How to Cite
Santoso, S., Natanael, A., Griselda, A., Khoirunnisa, J., Simanjuntak, M. A., Bagus, R., & Ana Fatmawati, A. (2021). ANALISIS PENGEMBANGAN PLATFORM EKSPOR SUB SEKTOR KULINER TINJAUAN DARI MODEL SISTEM INOVASI. Distribusi - Journal of Management and Business, 9(1), 29–38. https://doi.org/10.29303/distribusi.v9i1.151
License
Copyright (c) 2021 Sugeng Santoso, Arfeo Natanael, Ariela Griselda, Jeshica Khoirunnisa, Martua Andreas Simanjuntak, Raka Bagus, Ari Ana Fatmawati
This work is licensed under a Creative Commons Attribution-ShareAlike 4.0 International License.
Penulis yang naskahnya diterbitkan menyetujui ketentuan sebagai berikut:
Hak publikasi atas semua materi naskah jurnal yang diterbitkan/dipublikasikan dalam situs Jurnal DISTRIBUSI ini dipegang oleh dewan redaksi dengan sepengetahuan penulis (hak moral tetap milik penulis naskah). 
Ketentuan legal formal untuk akses artikel digital jurnal elektronik ini tunduk pada ketentuan lisensi Creative Commons Attribution-ShareAlike (CC BY-SA), yang berarti Jurnal DISTRIBUSI berhak menyimpan, mengalih media/format-kan, mengelola dalam bentuk pangkalan data (database), merawat, dan mempublikasikan artikel tanpa meminta izin dari Penulis selama tetap mencantumkan nama Penulis sebagai pemilik Hak Cipta. 
Naskah yang diterbitkan/dipublikasikan secara cetak dan elektronik bersifat open access untuk tujuan pendidikan, penelitian, dan perpustakaan. Selain tujuan tersebut, dewan redaksi tidak bertanggung jawab atas pelanggaran terhadap hukum hak cipta.