STIMULI PEMASARAN SEBAGAI FAKTOR UTAMA YANG MEMPENGARUHI PROSES KEPUTUSAN PEMBELIAN SEPEDA MOTOR BARU
Keywords:
analisis faktor, sepesa motor, stimuli pemasaran
Abstract
Penjualan sepeda motor sangat meningkat dalam satu dekade terakhir  di Indonesia meskipun akhirnya terjadi penurunan penjualan karena pandemi Covid-19 mewabah di Indonesia. Faktor utama yang mempengaruhi konsumen dalam  proses keputusan pembelian sepeda motor baru  adalah stimuli pemasaran dalam bentuk  bauran pemasaran 4P. Tujuan penelitian adalah untuk mengelompokkan sepuluh indikator bauran pemasaran menjadi beberapa faktor. Responden dalam penelitian ini adalah pembeli sepeda motor baru di Jakarta sebanyak 120 orang. Responden adalah pembeli sepeda motor baru pada  tahun 2020-2021 yang ditemui diberbagai tempat di Jakarta seperti mal, restoran, kafe, dan pasar swalayan. Pengumpulan data melalui pengisian kuesioner dilakukan mulai tanggal 15 Januari 2022 sampai dengan  30 April 2022. Metode   statistik menggunakan teknik Factor Analysis yang tersedia di perangkat lunak  SPSS 25. Kesimpulan dari penelitian ini adalah  terbentuknya dua  faktor. Faktor ke-1 diberi nama faktor keunggulan yang terdiri dari 6 indikator yaitu: mesin kuat ;harga tejangkau; tempat servis banyak; nyaman dikendarai; irit bensin; layanan purna jual. Faktor ke-2 diberi nama  faktor aksesoris yang terdiri 4 indikator yaitu; promosi menarik; tampilan bagus; model mutakhir;  warna menarik.
Downloads
Download data is not yet available.
References
Bashir, A.M., Bayat, A., Olutuase, S.O., & Abdul Latiff, Z.A. (2019). Factors affecting consumers' intention towards purchasing halal food in South Africa: a structural equation modelling. Journal of Food Products Marketing, 25(1), 26-48.
Bayton, J. A., 1958, Motivation, Cognition, Learning-Basic Factors in Consumer Behavior. Journal of Marketing, 22(3), 282-289
Burnett, J. (2008). Core Concepts of Marketing. Zurich, Switzerland: Jacobs Foundation.
Goi, C. L. (2009). A Review of Marketing Mix: 4Ps or more?. International Journal of Marketing Studies, 1(1), 2-16.
Jalalkamali, M., & Nikbin, D. (2010). The Effects of Motivation on Purchase Decision, Interdisciplinary Journal of Contemporary Research Business, 2(8), 234-255.
Kerby, J.K. (1980). Factor Analysis : Key Tool in Consumer Behavior Research. Journal of the Academy of Marketing Science, 7(4) , 374-390.
Khan, M.T. (2014). The Concept of 'Marketing Mix' and its Elements (A Conceptual Review Paper). International Journal of Information, Business and Management, 6(2), 95-107.
Kotler, P., & Armstrong G.( 2001). Principles of Marketing, Prentice Hall.
Kotler, P., & Keller, K.L. (2016). Marketing Management, 15 Global Edition, Pearson Education Inc.
Lim, P. L., & Yazdanifard, R. (2015). What internal and external factors influence impulsive buying behavior in online shopping?.Global Journal of Management and Business Research, 15(5), 25-32.
McCarthy, E.J., & Perreault, Jr., W.D (1990). Basic Marketing: Managerial Approach, Richard Irwin.
Muala, A. A., & Qurneh, M. A. (2012). Assessing the Relationship Between Marketing Mix and Loyalty Through Tourists Satisfaction in Jordan Curative Tourism. American Academic & Scholarly Research Journal, 4(2).
Park, E. J., Kim, E. Y., Funches, V. M., & Foxx, W. (2012). Apparel product attributes, web browsing, and e-impulse buying on shopping websites. Journal of Business Research, 65(11), 1583-1589.
Perreault, Jr., W.D., Cannon, J. P., & McCarthy E.J. (2017). Essentials of Marketing: A Marketing Strategy Planning Approach, 15th Edition. McGraw-Hill Education.
Rajan, A.K., & Nandagopal, R. (2010). Investigation of Critical Factors in Decision Making Of Two Wheelers. The Journal Contemporary Management Research. 4(1), 1-12.
Schiffman, L.G., Kanuk L.L., 1997, Consumer Behavior, Upper Saddle River, NJ, Prentice Hall
Yue, C. Y., & Abd Razak, A. Z. (2018). Impulse buying behavior among working ladies: A literature review. International Journal of Accounting, 3(13), 26-34.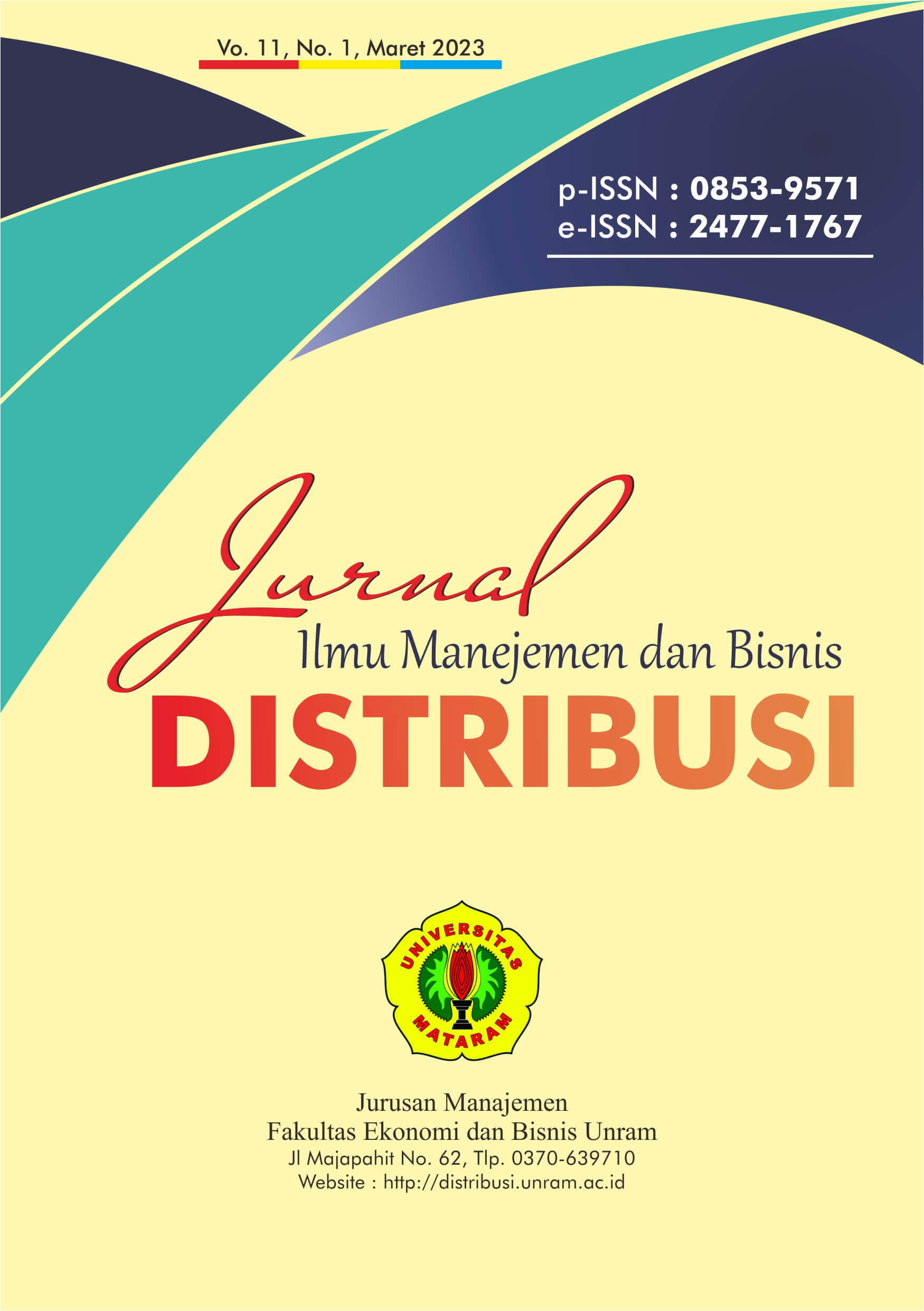 Downloads
How to Cite
Rianto, J. . (2023). STIMULI PEMASARAN SEBAGAI FAKTOR UTAMA YANG MEMPENGARUHI PROSES KEPUTUSAN PEMBELIAN SEPEDA MOTOR BARU. Distribusi - Journal of Management and Business, 11(1), 47–56. https://doi.org/10.29303/distribusi.v11i1.284
License
Copyright (c) 2023 James Rianto
This work is licensed under a Creative Commons Attribution-ShareAlike 4.0 International License.
Penulis yang naskahnya diterbitkan menyetujui ketentuan sebagai berikut:
Hak publikasi atas semua materi naskah jurnal yang diterbitkan/dipublikasikan dalam situs Jurnal DISTRIBUSI ini dipegang oleh dewan redaksi dengan sepengetahuan penulis (hak moral tetap milik penulis naskah). 
Ketentuan legal formal untuk akses artikel digital jurnal elektronik ini tunduk pada ketentuan lisensi Creative Commons Attribution-ShareAlike (CC BY-SA), yang berarti Jurnal DISTRIBUSI berhak menyimpan, mengalih media/format-kan, mengelola dalam bentuk pangkalan data (database), merawat, dan mempublikasikan artikel tanpa meminta izin dari Penulis selama tetap mencantumkan nama Penulis sebagai pemilik Hak Cipta. 
Naskah yang diterbitkan/dipublikasikan secara cetak dan elektronik bersifat open access untuk tujuan pendidikan, penelitian, dan perpustakaan. Selain tujuan tersebut, dewan redaksi tidak bertanggung jawab atas pelanggaran terhadap hukum hak cipta.