LIKUIDITAS DAN PERMODALAN BANK MILIK PEMERINTAH SEBELUM DAN PADA MASA PANDEMI
Keywords:
liquidity, capital, state-owned Bank
Abstract
This study analyzes state-owned Bank liquidity and capital before and during the Covid-19 pandemic in terms of liquidity and capital. The approach used in this research is comparative quantitative research. The data used are banking financial reports before and during the pandemic with a research focus: Bank Rakyat Indonesia (BRI), Bank Mandiri, Bank Negara Indonesia (BNI), Bank Tabungan Negara (BTN). Before the analysis was carrying out, the Research Instrument Prerequisite Test carrying out using Kolmogorov-Smirnov, and the analysis technique in this study was using paired t-test analysis. The results showed a difference before and during the pandemic regarding state-owned bank liquidity and capital adequacy.
Downloads
Download data is not yet available.
References
Anonim. 2020. Harga Saham Bank BUMN Papan Atas Kompak Menguat. https://www.indopremier.com/ipotnews/newsDetail.php?jdl=HargaSaham_Bank_BUMN_Papan_Atas_Kompak_Menguat&news_id=118157&group_news=IPOTNEWS&taging_subtype=PG002&name=&search=y_general&q=,&halaman=1.
Anonim. 2020. Pandemi koronavirus 2019-2020. https://id.wikipedia.org/wiki/Pandemi_koronavirus_2019%E2%80%932020.
Anonim. 2020. Bank Umumkan nama-nama Bank terkait pengawasan OJK, BPK: Kami punya wewenang. https://keuangan.kontan.co.id/news/umumkan-nama-namabank-terkait-pengawasan-ojk-bpk-kami-punya-wewenang/?page=all
Banker Association for Risk Management (BARa) dan Lembaga Sertifikasi Profesi Perbankan (LSPP). 2010. Modul Level 1, Edisi Kedua, Jakarta.
Ferial, F., Suhadak, S., & Handayani, S. (2016). PENGARUH GOOD CORPORATE GOVERNANCE TERHADAP KINERJA KEUANGAN DAN EFEKNYA TERHADAP NILAI PERUSAHAAN (Studi Pada Badan Usaha Milik Negara yang Terdaftar di Bursa Efek Indonesia Periode 2012-2014). Jurnal Administrasi Bisnis S1 Universitas Brawijaya, 33(1), 146–153.
Haryanto, S. (2016). Determinan Permodalan Bank Melalui Profitabilitas, Risiko, Ukuran Perusahaan, Efisiensi Dan Struktur Aktiva. Jurnal Ekonomi Dan Bisnis, 18(1), 117. https://doi.org/10.24914/jeb.v19i1.483
Kasmir. 2010. Manajemen Perbankan. Divisi Buku Perguruan Tinggi, PT. Likuiditas Dan Permodalan Bank Milik Pemerintah … | 119 RajaGrafindo Persada, Jakarta.
Mathew, N.G., dan L.A. Esther. 2012. A Financial Performance Comparison of Foreign VS Local Banks in Ghana, International Journal of Business and Social Science, Vol. 3 No. 21, pp. 82-87.
Octaviani, S., & Komalasarai, D. (2017). PENGARUH LIKUIDITAS, PROFITABILITAS, dan SOLVABILITAS TERHADAP HARGA SAHAM (Studi Kasus pada Perusahaan Perbankan yang Terdaftar di Bursa Efek Indonesia). Jurnal Akuntansi., 3(2), 77–89.
Pratiwi, Sandy Anggur , Estiningtiastuti, P. T. (2016). Analisis Risiko Likuiditas Perbankan Syariah di Indonesia. Ekonomic, 2012, h.7-8.
Putra, INNA; Mannan,S.S.A;Gumanti,T.A; Sukendri, N. (2019). THE EFFECT OF MANAGERIAL OWNERSHIP ON LIQUIDITY, AGENCY COST AND PERFORMANCE OF CREDIT SOCIETY BANKS IN WEST NUSA TENGGARA PROVINCE OF INDONESIA. Business Innovation and Development in Emerging Economies: Proceedings of the 5th Sebelas Maret International Conference on Business, Economics and Social Sciences (SMICBES 2018), July 17- 19, 2018, Bali, Indonesia.
Putra, I. (2013). PERBEDAAN PROFITABILITAS DAN TINGKAT PENGAWASAN SEBELUM DAN SESUDAH MERGER PADA BANK PERKREDITAN RAKYAT. Jurnal Keuangan Dan Perbankan, Vol.17, No.2 Mei 2013, Hlm. 302–309.
Putra, I. N. N. A., Gede, M. I., Gde, B. I. D., & Hery, S. (2020). BANK PERKREDITAN RAKYAT Jurnal Magister Manajemen Unram. 9(3), 286–294.
Rambey, S.. 2012. Workshop on: Indonesia Certificate in Banking Risk and Regulation Level 2, Module 1, School of Banking and Finance.
Wangsit Supeno, I. H. (2020). Kinerja Kredit Terhadap Profitabilitas Bpr Pada Masa Pandemi Covid-19. Journal of Chemical Information and Modeling, 53(9), 1689–1699.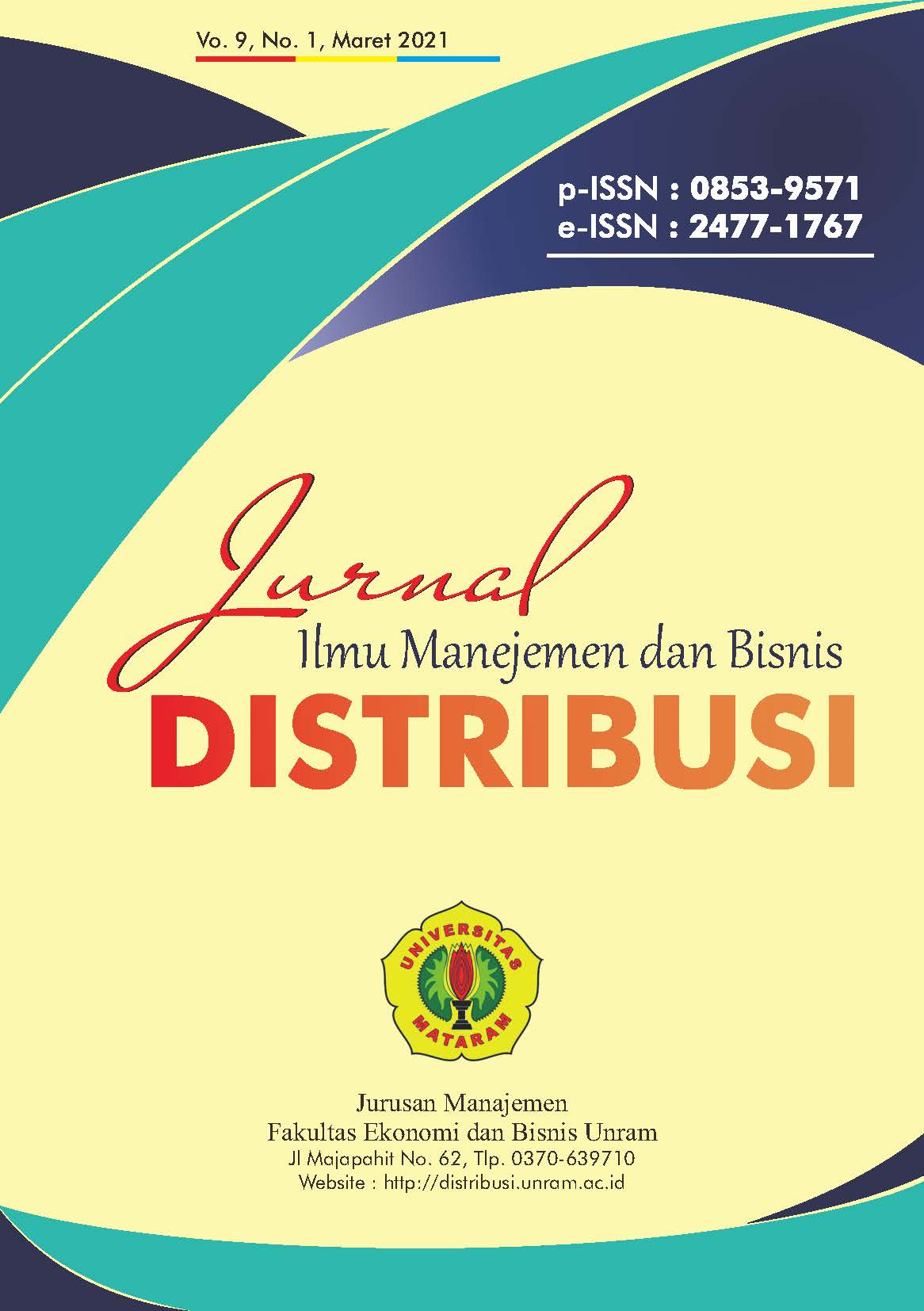 Downloads
How to Cite
Sukendri, N. (2021). LIKUIDITAS DAN PERMODALAN BANK MILIK PEMERINTAH SEBELUM DAN PADA MASA PANDEMI. Distribusi - Journal of Management and Business, 9(1), 109–118. https://doi.org/10.29303/distribusi.v9i1.161
License
Copyright (c) 2021 Nengah Sukendri
This work is licensed under a Creative Commons Attribution-ShareAlike 4.0 International License.
Penulis yang naskahnya diterbitkan menyetujui ketentuan sebagai berikut:
Hak publikasi atas semua materi naskah jurnal yang diterbitkan/dipublikasikan dalam situs Jurnal DISTRIBUSI ini dipegang oleh dewan redaksi dengan sepengetahuan penulis (hak moral tetap milik penulis naskah). 
Ketentuan legal formal untuk akses artikel digital jurnal elektronik ini tunduk pada ketentuan lisensi Creative Commons Attribution-ShareAlike (CC BY-SA), yang berarti Jurnal DISTRIBUSI berhak menyimpan, mengalih media/format-kan, mengelola dalam bentuk pangkalan data (database), merawat, dan mempublikasikan artikel tanpa meminta izin dari Penulis selama tetap mencantumkan nama Penulis sebagai pemilik Hak Cipta. 
Naskah yang diterbitkan/dipublikasikan secara cetak dan elektronik bersifat open access untuk tujuan pendidikan, penelitian, dan perpustakaan. Selain tujuan tersebut, dewan redaksi tidak bertanggung jawab atas pelanggaran terhadap hukum hak cipta.