PENGARUH KOMPETENSI, KOMUNIKASI, MOTIVASI TERHADAP KINERJA GURU SEKOLAH MENENGAH ATAS NEGERI SE KOTA MATARAM
Keywords:
Kinerja, kompetensi, komunikasi dan motivasi
Abstract
Penelitian ini bertujuan menganalisis pengaruh komptensi terhadap kinreja, pengaruh komunikasi terhadap kinerja  , pengaruh motivasi terhadap kinerja guru Sekolah Menegah Atas  se Kota Mataram., dengan menggunakan sebanyak80  responden sebagai sampel dalam penelitian ini.Jenis penelitian yang digunakan adalah penelitian asosiatif kausal, dengan sumber data primer dan sekunder, alat yang digunakan adalah kusioner, di mana metode pengumpulan data dengan metode angket, dokumentasi dan wawancara jika ada jawaban responden yang belum jelas dan perlu penjelasan yang lebih rinci, sebagai kroscek.

               Hasil yang di dapat semua kuisiner yang di gunakan valid dan realibel, dan semua varibel bebas yaitu kompetensi, komunikasi dan motivasi berpengaruh positip dan signifikan terhadap kinerja guru ,karena r hitung yang di dapat > r tabel,serta semua item pertanyaaan di kuisioner valid serta realibel dan memenuhi syarat uji asumsi klasik yaitu notrmalitas, multikoleneritas dan heterokedisitas..

            Saaran yang bisa di ajukan bagaimana meningkatkan kinerja guru dengan memperhatikan pemberian tugas-tugas yang sesuai dengan pendidikan dan pelatihan yang dimiliki oleh guru-guru, dan memberikan wadahatau media untuk komunikasi yang lebih lanvcar dengan sesama guru agar mereka bisa saling bertukar imformasi tentang tugas-tugas dan peneyelesaian tugas yang guru ampu, memberikan motivasi berupa penghargaan terhadap guru-guru yang berprestasi agar bisa meningkatkan kinerja.
Downloads
Download data is not yet available.
References
Adianto, Hari. Yuke Agustin, I.G.A. Happy Trindira. 2005. Jurnal Manajemen & Kewirausahaan, Vol. 7, No. 2, September 2005: 125-138
Arifin, Zaenal. Eka Afnan Troena, Armanu Toyib dan Umar Nimran. 2010. Pengaruh Karakteristik Individu, Stres Kerja, Kepercayaan Organisasi Terhadap Intention To Stay Melalui Kepuasan Kerja dan Komitmen Organisasi (Studi pada Dosen Tetap Yayasan PTS Makasar). Jurnal Aplikasi Manajemen. Vol. 8 No. 3 Agustus. Hlm. 898 - 905
Baron, R.A & Byrne, D. (1994). Social Psychology: Understanding Human Interaction. Boston: Allyn & Bacon.
Blegen, M.A. 1993. Nurses's job satisfaction : a meta-analysis of related variables. INurs. Res . 42 (1), 36 – 41
Boumans, N. 1990. Het Werk van verpleegkundige in algemene ziekenhuizen : een onderzoek naar werkaspecten en hun invloed op verpleegkndigen. University of Limburg, Maastrict
Castanheira, Filipa and Maria Jose Chambel. 2010. Burnout in salespeople : A three-wave study to examine job characteristic's prediction and consequences for performance. Economic and Industrial Democracy. 31 (4), 409 - 429
Djastuti, Indi. 2011. Pengaruh Karakteristik Pekerjaan Terhadap Komitmen Organisasi Karyawan Tingkat Managerial Perusahaan Jasa Konstruksi di Jawa Tengah. Jurnal Bisnis dan Akuntansi. Vol. 13, No. 1 April 2011, Hlm. 1 - 19
Dunseath, J; Beehr, T A; King D W. 1995. Job Stres-Social Support Buffering Effects Across Gender, Education and Occupational Groups in Municipal Workforce. Journal of Public Personnel Administration. Winter 1995, p:60-83.
Deeter, D R and Ramsey, R P. 1997. Considering Source and Types of Social Support : A Psychometric Evaluation of the House and Wells (1978) Instrument. Journal of Personal Selling and Sales Management, Vol. XVII, No.1.1997
Hackman, J.R and Oldham, G. R. 1980. Work Redesign. Addison-Wesley. Massachusetts
Hair, Joseph, F., William C. Black, Barry J. Babin, Rolph E. Anderson and Ronald L. Tatham. 2006. Multivariate Data Analysis. Sixth Edition. Pearson International Edition
Ivancevich, John M., Roberth Konopaske and Michael T. Matteson. 2008. Organizational Behavior and Management. Eight Edition. Mc Graw-Hill International Edition
King, A J C; Peart, M J.1992. The Satisfaction and Stres of Being a Teacher. Worklife Report, Vol.8, No.6, p:12-13.
Kreitner, Robert dan Angelo, Kinicki. 2000. Perilaku Orgnisasi. Buku 2, Edisi 5. Jakarta Penerbit Salemba Empat.
Jansen, Patrick G. M. Ada Kerkstra, Huda Huijer Abu Saad and Jouke Van Der Zee. 1996. The Effect of job characteristic and individual characteristic on job satisfaction and burnout in community nursing. International Journal Nursy Study., Vol. 33, No. 4, PP 407 – 421
Johnson, J.V. and Hall, E.M. 1988. Job Strain, Work place social support, and cardiovascular disease: a cross-sectional study of a random sample of the Swedish Working Population. Am. J. Publ. Health 78 (10), 1336 – 1342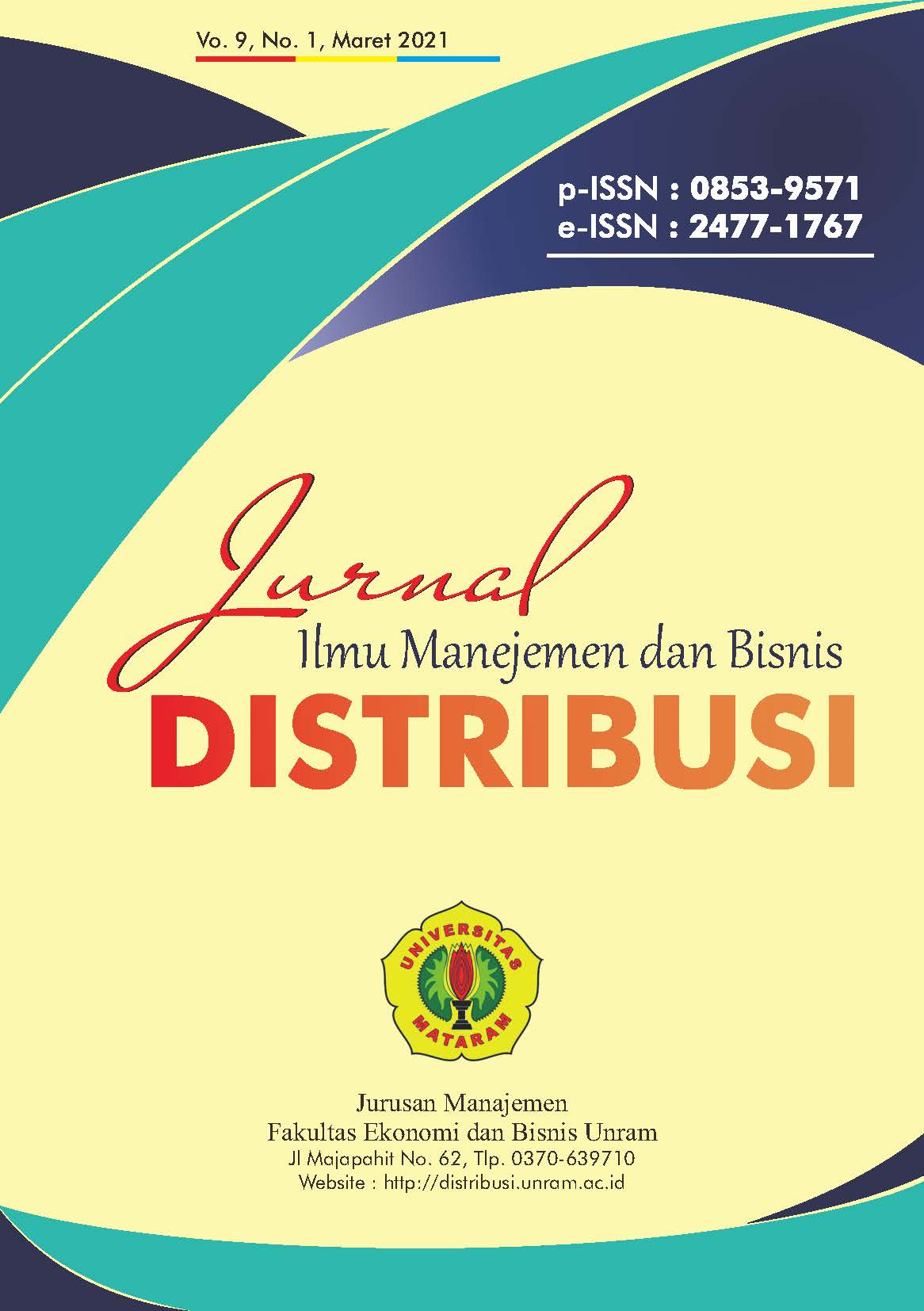 Downloads
How to Cite
Sulaimiah, S., Abidin, Z., & Supyateno, D. (2021). PENGARUH KOMPETENSI, KOMUNIKASI, MOTIVASI TERHADAP KINERJA GURU SEKOLAH MENENGAH ATAS NEGERI SE KOTA MATARAM. Distribusi - Journal of Management and Business, 9(1), 69–76. https://doi.org/10.29303/distribusi.v9i1.153
License
Copyright (c) 2021 Sulaimiah Sulaimiah, Zainal Abidin, Djoko Supyateno
This work is licensed under a Creative Commons Attribution-ShareAlike 4.0 International License.
Penulis yang naskahnya diterbitkan menyetujui ketentuan sebagai berikut:
Hak publikasi atas semua materi naskah jurnal yang diterbitkan/dipublikasikan dalam situs Jurnal DISTRIBUSI ini dipegang oleh dewan redaksi dengan sepengetahuan penulis (hak moral tetap milik penulis naskah). 
Ketentuan legal formal untuk akses artikel digital jurnal elektronik ini tunduk pada ketentuan lisensi Creative Commons Attribution-ShareAlike (CC BY-SA), yang berarti Jurnal DISTRIBUSI berhak menyimpan, mengalih media/format-kan, mengelola dalam bentuk pangkalan data (database), merawat, dan mempublikasikan artikel tanpa meminta izin dari Penulis selama tetap mencantumkan nama Penulis sebagai pemilik Hak Cipta. 
Naskah yang diterbitkan/dipublikasikan secara cetak dan elektronik bersifat open access untuk tujuan pendidikan, penelitian, dan perpustakaan. Selain tujuan tersebut, dewan redaksi tidak bertanggung jawab atas pelanggaran terhadap hukum hak cipta.