THE IMPACT OF COLLABORATIVE GOVERNANCE ON MSMES RECOVERY IN DKI JAKARTA DURING THE COVID-19 PANDEMIC
Keywords:
PSBB, KSBB, Kolaborasi
Abstract
In the recovery of MSMEs during the pandemic, the government cannot do it alone. Therefore, collaboration from various parties is needed. This study aims to analyze the impact of Collaborative Governance in the recovery of Micro, Small, and Medium Enterprises (MSMEs) in Jakarta during the COVID-19 pandemic by evaluating the Large-Scale Social Collaboration (LSSC) of MSMEs from June 2020 to June 2021. In addition, to analyze the extent to which Collaborative Governance is implemented in the LSSC of MSMEs program, the researcher used five important indicators based on Collaborative Governance theory. By using qualitative methods, the data obtained through in-depth interviews with several stakeholders involved and MSME owners as recipients of the program assistance. Data analysis was carried out using thematic analysis to obtain indicators that describe the program effectiveness from the implementers and indicators of the satisfaction of MSME actors with the assistance received through this program. Then, all these indicators are re-analyzed using the SWOT framework. The study found that Collaborative Governance has been running quite well, but stakeholders have not really involved MSME Activists in the Large-Scale Social Collaboration program as one of the steps in restoring MSMEs in Jakarta. In this finding, the researcher recommends several solutions such as, more massive publication and socialization is needed to invite more collaborators, the governance and mechanism of the LSSC of MSMEs program needs to be improved, as well as revitalizing the program. Therefore, the government also needs to implement some steps to maintain the sustainability of this program.
Downloads
Download data is not yet available.
References
Aminah, S; Roikan. Pengantar Metode Penelitian Kualitatif Ilmu Politik, (Jakarta: Prenada Media Group, 2019).
Badan Kebijakan Fiskal Kementerian Keuangan. (2020). PROGRAM BANTUAN MODAL.
Alfin, A. (2021). Analisis Strategi UMKM dalam Menghadapi Krisis di Era Pandemi COVID-19. Jurnal Inovasi Penelitian, 1(10), 1–208.
Ansell, C., & Gash, A. (2008). Collaborative governance in theory and practice. Journal of Public Administration Research and Theory, 18(4), 543–571. https://doi.org/10.1093/jopart/mum032
Bianchi, C., Nasi, G., & Rivenbark, W. C. (2021). Implementing collaborative governance: models, experiences, and challenges. Public Management Review, 00(00), 1–9. https://doi.org/10.1080/14719037.2021.1878777
Emet GÜREL. (2017). SWOT ANALYSIS: A THEORETICAL REVIEW. The Journal of International Social Research, 4, 9–15.
Fakir, A. M. S., & Bharati, T. (2021). Pandemic catch-22: The role of mobility restrictions and institutional inequalities in halting the spread of COVID-19. PLOS ONE, 16(6 June), 1–29. https://doi.org/10.1371/journal.pone.0253348
Hamid, E. S. (2009). Akar Krisis Ekonomi Global dan Dampaknya Terhadap Indonesia. La_Riba, 3(1), 1–11. https://doi.org/10.20885/lariba.vol3.iss1.art1
Harini, S., & Ashari, dan I. (2016). PENGARUH KETERLIBATAN STAKEHOLDERS TERHADAP KINERJA UMKM IMPACT INVOLVEMENT STAKEHOLDERS ON THE PERFORMANCE OF SMEs. Sosial Humaniora, 7(1), 28–29.
Herdiana, D. (2020). Implementasi Kebijakan Pembatasan Sosial Berskala Besar (Psbb) Sebagai Upaya Penanggulangan Corona Virus Disease 2019 (Covid-19). Decision: Jurnal Administrasi Publik, 2(2). https://doi.org/10.23969/decision.v2i2.2978
Hindarsyah, I. (2008). Dampak-Krisis-Global-Terhadap-UKM-Oleh-Ida-Hindarsyah-Vol-2-No-1-Tahun-2008.pdf.
Kumala, R. D. M. (2020). Legal Analysis of Government Policy on Large Scale Social Restrictions in Handling COVID-19. The Indonesian Journal of International Clinical Legal Education, 2(2), 181–200. https://doi.org/10.15294/ijicle.v2i2.38326
Muhammad, M., Aditia Mahardika, & Rizka Amalia. (2020). Corona Virus Pandemic Impact on Sales Revenue of Micro Small and Medium Enterprises ( MSMEs ) in Pekalongan City, Indonesia. Journal of Vocational Studies on Applied Research, 2(1), 7–10. https://ejournal2.undip.ac.id/index.php/jvsar/article/view/7600
Nadyan, A. F., Selvia, E., & Fauzan, S. (2021). The Survival Strategies of Micro, Small and Medium Enterprises in The New Normal Era. Dinamika Ekonomi: Jurnal Ekonomi Dan Pembangunan, 12(2), 142–149. https://bit.ly/dinamika_ekonomi
Nouvellet, P., Bhatia, S., Cori, A., Ainslie, K. E. C., Baguelin, M., Bhatt, S., Boonyasiri, A., Brazeau, N. F., Cattarino, L., Cooper, L. V., Coupland, H., Cucunuba, Z. M., Cuomo-Dannenburg, G., Dighe, A., Djaafara, B. A., Dorigatti, I., Eales, O. D., van Elsland, S. L., Nascimento, F. F., … Donnelly, C. A. (2021). Reduction in mobility and COVID-19 transmission. Nature Communications, 12(1), 1–9. https://doi.org/10.1038/s41467-021-21358-2
Putra, A. H. (2018). Peran Umkm Dalam Pembangunan Dan Kesejahteraan Masyarakat Kabupaten Blora. Jurnal Analisa Sosiologi, 5(2). https://doi.org/10.20961/jas.v5i2.18162
Rosita, R. (2020). Pengaruh Pandemi Covid-19 Terhadap Umkm Di Indonesia. Jurnal Lentera Bisnis, 9(2), 109. https://doi.org/10.34127/jrlab.v9i2.380
Shimomura UNDP Indonesia Resident Representative. (2020). Impact of Pandemic on MSMEs in Indonesia. 73.
Sugiri, D. (2020). Menyelamatkan Usaha Mikro, Kecil dan Menengah dari Dampak Pandemi Covid-19. Fokus Bisnis : Media Pengkajian Manajemen Dan Akuntansi, 19(1), 76–86. https://doi.org/10.32639/fokusbisnis.v19i1.575
Syafri, H., Sangadji, E., & Mega Utami, R. R. (2020). Impact Analysis of the Large-Scale Social Restrictions (PSBB) Policy Implementation in Jakarta. Journal of Indonesian Health Policy and Administration, 5(2), 57–60. https://doi.org/10.7454/ihpa.v5i2.4056
Tim Nasional Percepatan Penanggulangan Kemiskinan. (2021). Mempertahankan Usaha Mikro pada Masa Pandemi COVID-19. tnp2k.go.id
Widjaja, G. (2020). COVID-19 Pandemic and Law No. 6 Year 2018 regarding Health Quarantine. Journal of Indonesian Health Policy and Administration, 5(2). https://doi.org/10.7454/ihpa.v5i2.3867
Jurnal Entrepreneur, "Penyelamat Krisis 1998, UKM Diharapkan Terjang Krisis Karena Corona", retrieved from https://www.jurnal.id/id/blog/penyelamat-krisis-1998-ukm-diharapkan-terjang-krisis-karena-korona/
Tira Santia, "Beda Kondisi UMKM Saat Pandemi Corona di 2020 dengan Krisis Ekonomi 1998", 2020, retrieved from https://www.liputan6.com/bisnis/read/4228397/beda-kondisi-umkm-saat-pandemi-corona-di-2020-dengan-krisis-ekonomi-1998
Travel.detik.com, "Pulau Mana yang Terpadat Penduduknya di Indonesia, Tahu Tidak?", 2021, retrieved from https://travel.detik.com/travel-news/d-5662284/pulau-mana-yang-terpadat-penduduknya-di-indonesia-tahu-tidak.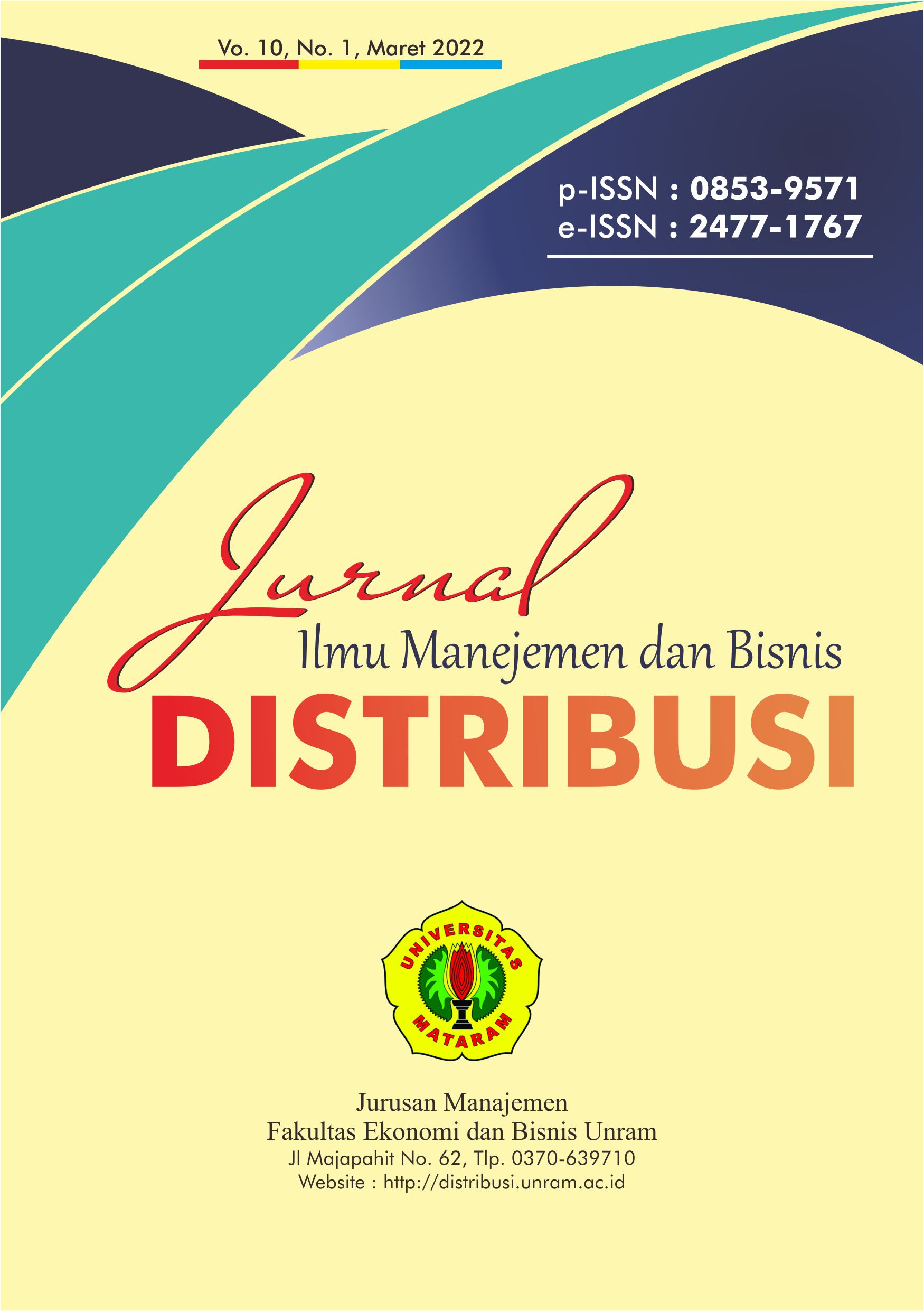 Downloads
How to Cite
Nurwaesari, N., Bambang Hirawan, F. ., & Komara Ragamustari, S. . (2022). THE IMPACT OF COLLABORATIVE GOVERNANCE ON MSMES RECOVERY IN DKI JAKARTA DURING THE COVID-19 PANDEMIC. Distribusi - Journal of Management and Business, 10(1), 1–10. https://doi.org/10.29303/distribusi.v10i1.222
License
Copyright (c) 2022 Nana Nurwaesari, Fajar Bambang Hirawan, Safendrri Komara Ragamustari
This work is licensed under a Creative Commons Attribution-ShareAlike 4.0 International License.
Penulis yang naskahnya diterbitkan menyetujui ketentuan sebagai berikut:
Hak publikasi atas semua materi naskah jurnal yang diterbitkan/dipublikasikan dalam situs Jurnal DISTRIBUSI ini dipegang oleh dewan redaksi dengan sepengetahuan penulis (hak moral tetap milik penulis naskah). 
Ketentuan legal formal untuk akses artikel digital jurnal elektronik ini tunduk pada ketentuan lisensi Creative Commons Attribution-ShareAlike (CC BY-SA), yang berarti Jurnal DISTRIBUSI berhak menyimpan, mengalih media/format-kan, mengelola dalam bentuk pangkalan data (database), merawat, dan mempublikasikan artikel tanpa meminta izin dari Penulis selama tetap mencantumkan nama Penulis sebagai pemilik Hak Cipta. 
Naskah yang diterbitkan/dipublikasikan secara cetak dan elektronik bersifat open access untuk tujuan pendidikan, penelitian, dan perpustakaan. Selain tujuan tersebut, dewan redaksi tidak bertanggung jawab atas pelanggaran terhadap hukum hak cipta.