IMPLEMENTASI STRATEGI PERTUMBUHAN PASCAGEMPA BUMI DALAM BISNIS PENGINAPAN DI KAWASAN WISATA SEMBALUN PULAU LOMBOK
Keywords:
growth strategy, lodging, post-earthquake
Abstract
This research is to explore the lodging bussiness condition of sembalun community after the erthquake in lombok island exactly in the year of 2018, the effect of natural disaster had been paralyzed the lombok island part of northern including the torist area of sembalun. The rarely visitors who come to sembalun area after the earthquake have caused the lodging bussiness are getting down, many hotels are broken, and it could not be repaired until recently and many other also could not be operated while some of hotel which are able to be used have given the little happyness for the owner,  could enjoy their income even the condition is not fully good therefore is required the right growth strategy to reincrease the  lodging busniss thus the people do not spend the lot of cost in repairing their bussniss  and also do not get the wrong step in determine the next step. This research try to give solution to develop the growth strategy as an alternatif which could be selected by the hotel managers in increasing their bussiness in the next.
Downloads
Download data is not yet available.
References
Anonim, 2019, Kecamatan Sembalun Dalam Angka 2019, BPS Kabupaten Lombok Timur
Adrian Payne, 2001, Essensi Pemasaran Jasa, Alih Bahasa oleh Fandy Tjiptono, Penerbit Andi, Yogyakarata.
A.Aaker, David, 2013, Manajemen Pemasaran Strategis, Penerjemah dalam bahasa Indonesia David Wijaya dkk, Salemba Empat, Jakarta.
Craven, David W, 1997, Strategic Marketing, Fifth Edition, Mc.Graw-Hill Companies, Inc.USA
Kotler, Philip, 2010, Manajemen Pemasaran, Jilid 1, Terjemahan, PT Indeks Kelompok Gramedia, Jakarta
Kotler, Phillip and Keller, Kavin Lane, 2013, Marketing Management, 14th Edition, London, Reansum Global Edition
Lilik, Agung Am, 1997, Strategi Bisnis Marketing dan Manajemen, penerbit Andi, Yogyakarta.
Stanton, William J., 2012, Prinsip Pemasaran, Alih Bahasa: Yohanes Lamarto, Erlangga, Jakarta
Soekadijo, R.G. 1997. Anatomi Pariwisata : Memahami Pariwisata Sebagai Sistim Linkage, Jakarta, Gramedia
Walker, Boyd, Larreche, 1999, Marketing Strategy Planning and Implementation,, Third Edition, McGraw-Hill, Boston
Yoeti, Oka A.1997. Perencanaan dan Pembangunan. Jakarta. PT. Pradya Paramita
https://insidelombok.id/berita-utama/ini-jumlah-kunjungan-wisatawan-ke-ugg-rinjani/
https://kominfo.go.id/index.php/content/detail/8385/menangkan-whta-world-halal-tourism-award-untuk-pariwisata-indonesia-di-mata-dunia/0/artikel_gpr
https://www.tripadvisor.co.id/Attractions-g12955895-Activities-Sembalun_Lawang_Lombok_West_Nusa_Tenggara.html
https://kumparan.com/kumparantravel/sembalun-sepetak-surga-di-lereng-rinjani-1sMWcaNdKGm/full
https://regional.kompas.com/read/2018/09/23/11321551/melihat-kembali-gempa-lombok-2018-dan-sejarah-kegempaannya?page=all
https://marioandi.blogspot.com/2017/11/strategi-pertumbuhan_13.html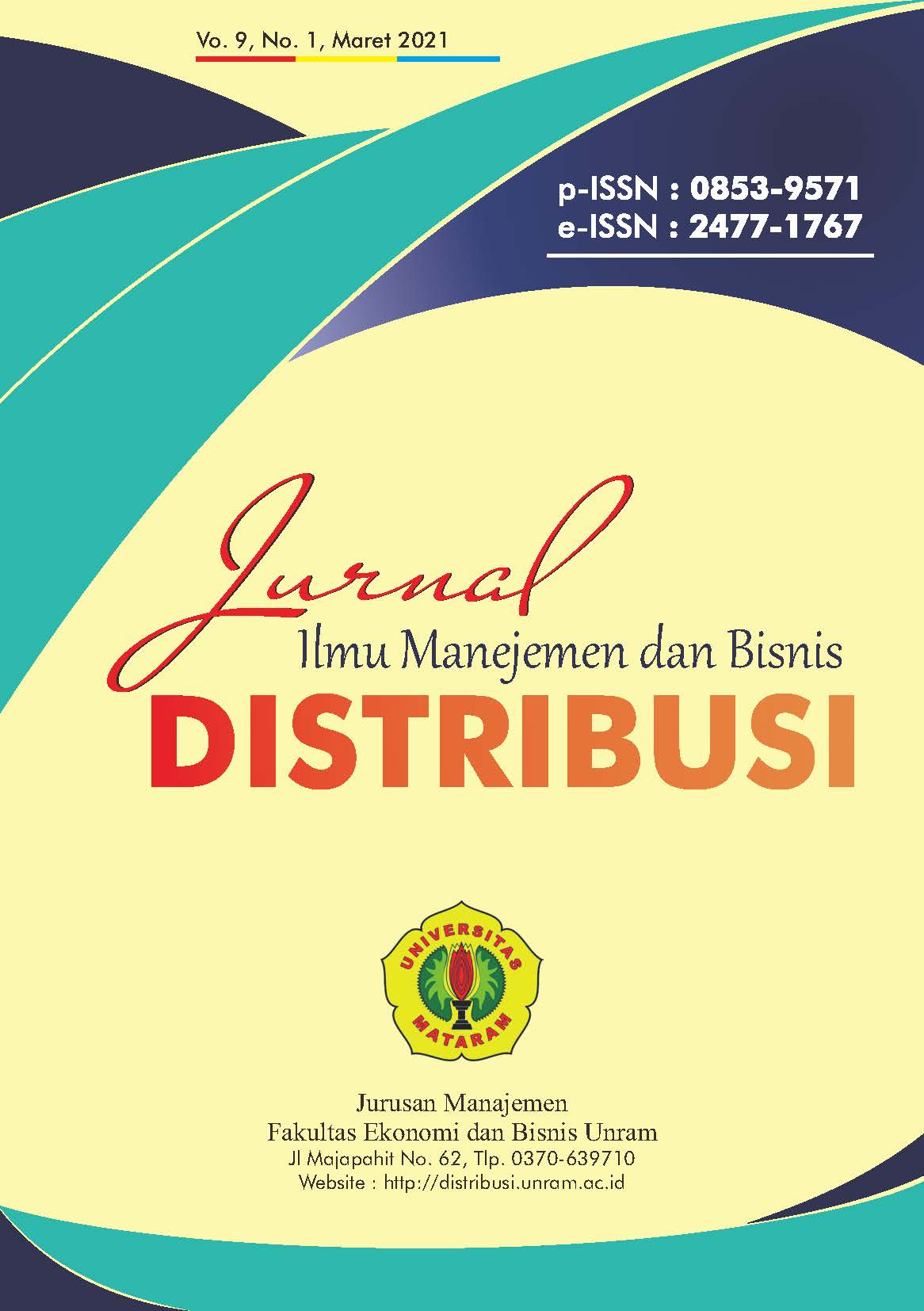 Downloads
How to Cite
Rusdan, R., Sulhaini, S., & Dayani, R. (2021). IMPLEMENTASI STRATEGI PERTUMBUHAN PASCAGEMPA BUMI DALAM BISNIS PENGINAPAN DI KAWASAN WISATA SEMBALUN PULAU LOMBOK. Distribusi - Journal of Management and Business, 9(1), 77–86. https://doi.org/10.29303/distribusi.v9i1.154
License
Copyright (c) 2021 Rusdan Rusdan, Sulhaini Sulhaini, Rahman Dayani
This work is licensed under a Creative Commons Attribution-ShareAlike 4.0 International License.
Penulis yang naskahnya diterbitkan menyetujui ketentuan sebagai berikut:
Hak publikasi atas semua materi naskah jurnal yang diterbitkan/dipublikasikan dalam situs Jurnal DISTRIBUSI ini dipegang oleh dewan redaksi dengan sepengetahuan penulis (hak moral tetap milik penulis naskah). 
Ketentuan legal formal untuk akses artikel digital jurnal elektronik ini tunduk pada ketentuan lisensi Creative Commons Attribution-ShareAlike (CC BY-SA), yang berarti Jurnal DISTRIBUSI berhak menyimpan, mengalih media/format-kan, mengelola dalam bentuk pangkalan data (database), merawat, dan mempublikasikan artikel tanpa meminta izin dari Penulis selama tetap mencantumkan nama Penulis sebagai pemilik Hak Cipta. 
Naskah yang diterbitkan/dipublikasikan secara cetak dan elektronik bersifat open access untuk tujuan pendidikan, penelitian, dan perpustakaan. Selain tujuan tersebut, dewan redaksi tidak bertanggung jawab atas pelanggaran terhadap hukum hak cipta.